Data Recovery Services in Santa Barbara
PC Mechanic has been providing data recovery services in Santa Barbara for the last 12 years at an affordable price. Our team can recover your lost data including documents, pictures, music, videos, desktop folders, etc. from various storage devices such as:
Hard drives

Solid state drives

USB flash drives

NVMe drives

Raid drives

SD cards

Phones

And other flash technologies
We have invested thousands of dollars in the most advanced equipment and software, and are committed to continuous education in data loss technology. With thousands of hours of experience in recovering data for clients in Santa Barbara county, you can trust us to recover your valuable data quickly and efficiently.
We are also committed to maintaining the privacy and security of client data. Our services are available for both Mac and Windows operating systems.
Trusted Data Recovery Partner: Gillware Data Recovery
In partnership with Gillware, one of the leading companies in the field of data recovery, we are able to assist clients in advanced data recovery services such as hard drive head replacement or platter replacement.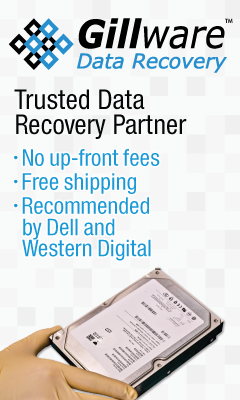 "Gillware is passionate about getting your data back.  For almost two decades we have been at the forefront in the fight against data loss. Since 2004 we've successfully recovered data from well over 100,000 storage devices. We have the best equipment and the best home-grown recovery software. Our processes are well-defined and have stood the test of time. More importantly, we have the seasoned recovery engineers with a combined 200,000 hours of professional data recovery experience. Gillware is the best value in data recovery services with leading edge technology at competitive pricing. We look forward to assisting you get your critical data back."
"This trusty mechanical hard drive has been with us through thick and thin, surviving the constant threat of obsolescence and outliving even the most advanced storage drives. It's like the grandpa of hard drives, still holding on to its glory days while we all marvel at its vintage charm."
Data Transfer Services
In addition to data recovery services, PC Mechanic also provides efficient data transfer services for new computers. If you're looking to transfer your data from an old PC to a new one, give us a call and we'll be happy to help. Call us today at (805) 324-3654 to start the process of recovering your valuable photos and documents. Trust PC Mechanic to be your one-stop solution for all your data recovery and transfer needs.