Hard Drive Data Recovery
Advanced hard drive data recovery and hard drive diagnostic service are offered by PC Mechanic at an affordable price in Santa Barbara CA. Computer data recovery is typically completed in 24 hours or less. We can recover data both from logical or mechanically failed hard drive. We appreciate your consideration to recover your sensitive data, such as pictures, documents, videos, music or other files. We can help you recover your hard drive data from logical hard drive failures such as accidental deleted files, formatted hard drive, etc. We also can recover your data from corrupt OS, or non-booting computers. Transferring your data from an old computer to a new computer can be done in few hours.  We take pride in providing the highest quality of service, reflecting our experience, integrity, honesty, professionalism. Santa Barbara PC Mechanic computer services are available in Santa Barbara, Goleta, Carpinteria,  Montecito, and Hope Ranch.
Data Transfer
Do you want to transfer your data from an old computer to a new computer and need an expert support!! Do you need to recover your photos, document, music or videos from a computer that does not boot anymore? PC Mechanic can help you recover your computer hard drive data with ease usually in 24 hours or less!
Logical Hard Disk Failure
Hard disk drive is the most important part of your computer. It stores all your photos, documents, music, and videos! All hard drive will fail at some point. Every hard disk contains some bad sectors. As bad sectors grow, the disk might not mount or be recognized by your computer. I have more than a decade of experience in recovering data from logical failure, and our professional service is much faster and more affordable compared to professional data recovery companies. We also can recover data as a result of an accidental format or deletion in most cases.
Hard Drive Physical Failure
After an initial consultation with  PC Mechanic and evaluation of your hard drive data status. PC Mechanic may refer you to our partner  Gillware Data Recovery service for professional data recovery requiring a clean room. Here is a quote from Gillware:
"Gillware know data loss can be a very difficult experience. That's why we want to make it as easy as possible for you to get your important files back: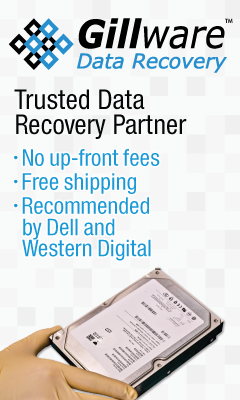 No data, no charge" policy – view a list of recoverable files before paying
Free evaluation and inbound shipping
We are SOC 2 Type II security audited
World class team of computer scientists, mechanical and electrical engineers
With industry-leading success rates, prices 40-50% lower than our competition and cutting edge engineering techniques, you can see why we're trusted data recovery partners for companies like Western Digital and Dell."
Hard Drive Data Backup
When was the last time that you performed a complete backup of your data? Scheduling regular backups of your data is the best insurance against catastrophic data loss, hard drive failure, and hard drive crash! Unfortunately, physical damage, user deletion, and logical hard drive failure all pose serious risks to your data, and hard drive failures and crashes do happen!  Attempting to recover data from a damaged hard drive using free software can put your data at risk of permanent loss. Irreversible data loss can be disastrous, especially if the files you have lost are critical to you.  Santa Barbara PC Mechanic strives to teach clients the importance of backing up their data regularly and how to avoid future data loss by having multiple layers of protections.  If you had a hard drive crash and need to recover your data as a result of logical or physical hard drive failure or user deletions,  we will recover your data using advanced data recovery software.  Please call today at (805) 324-3654 From 7:00 AM to 7:00 PM 7 days a week! And find out why people in Santa Barbara trust the "PC Mechanic!"